The general perception is that children are surrounded by a variety of musical experiences. There are often fewer and fewer opportunities for children to actively engage in music making themselves. They are inundated with music emitting from a wide array of electronic devices, toys, and computers offering a limitless number of musical selections. However, much of the music in children's lives is "unchosen," in other words they are passive recipients in much of the music in their lives, and not actively engaged in its selection. They experience background music in computer games, cartoons, TV shows, films, on iPads, radios, and ringtones. They listen to music choices of their parents or siblings, and even the schools they attend often play music before the school day begins or in classrooms while students are working. Studies are being conducted on the effects of the ubiquitous pre-recorded music they encounter and whether or not it is intruding on their desire to make their own music or interact with each other on the playground.
Traditionally, children have participated in music making in activities such as singing songs learned via media or in-person interactions (school, camps, peers, playground). Children's repertoires include countless game-songs and rhymes for play, jump rope, etc., that have been passed down and modified for generations. In addition to pre-composed children's songs or folk songs, children create their own make-believe dialog and songs while playing with each other, or their toys and dolls, or just while daydreaming.
In a study of pre-school children and their musical play, Berger and Cooper (2003) discovered that children needed extended, uninterrupted time for play episodes. They identified interruptions that resulted in unfinished play and extinguished children's musical play, as well as environments that enhanced play such as the presence of an adult valuing all of the children's musical utterances and flexibility within structured lessons. One area of concern is the shrinking playground time during the school day due to an emphasis on more test-driven curricula. This deprives children of much of the freedom and interaction and development that can occur during free time with each other and with their own selves.
Activity 10B
Try this
Think of the music that you encounter in just one day, including all of the chosen vs. unchosen music listening or making that occurs. How much of your day included unchosen music? Chosen music?
What is considered children's musical play? Children's musical play differs from teacher-structured play in an educational setting. Children's play is child-centered, child-structured, child-motivated, and child-run. It is:
Initiated by children of their own volition
Participated in voluntarily
Intrinsically motivated
Controlled by the child or children
Free from external rules or run from internally developed rules
Involved in everyday forms of musical activity (Marsh and Young, 2006)
Recent studies have not only looked at the processes of musical play, but studied them in the child's own environment rather than in an isolated and adult-controlled setting. Studies from Marsh (1995) and Hargreaves (1998) look at children's ability to compose and create songs on the playground among their peers and in a child-controlled environment.
The more intriguing aspect of children's play is that it naturally incorporates the integration and multimodality that we attempt to instill during education such as dance, drama, and music. Adult-led learning situations may be able to tap into or approximate the multi-modality that may increase arts and learning connections for children.
Marsh and Young's musical play within four age groups (2006)
Birth–Age 3
Interactions between adults and babies
Bounces, repetitious songs
Preschool (3–6)
Two types of singing:

"Communicative chant-like, repetitive singing of short verbal and musical ideas" sung in groups (p. 294-5)
"Introverted, solitary, free-flowing" singing generally alone (p. 295)

Instruments: Explore "sound makers," instruments, or really any object
Movement: Respond to any music played
Mid-Childhood (6+)
Display more complex rhythms and melodies than originally assumed by ethnomusicologists
Tessitura much lower, closer to natural speaking voice
Reaction to cultural environment (pop music, traditional music)
Early Adolescence
Downloading music

files

and singing with them
Change to more dance-oriented play from singing and clapping games
Characteristics of Musical Play
According to Marsh (2006), play is:
Multimodal

Blends movement with singing, making sounds with objects and instruments
Visually, kinesthetically, and aurally active

Unpremeditated and improvisational

Younger children are more spontaneous
Older children are more stylized, and base their play on other genres

A form of social interaction
Gender and cultural differences in all play also relates to musical play. Collaborative musical play continues among both boys and girls in international locations, whereas collaborative musical play in the U.S. among boys tends to wane. Boys' handclapping games are also more private, whereas girls will openly play jump rope games. (Marsh, 2006)
The Singing-Game: Children's Musical Creativity in Play
Children's singing game songs are one of the most profound examples of their creativity. Found the world over, children's song repertoires are some of the most imaginative and interesting cultural examples of any genre and are important expressions of children's lives in different cultures and eras. These games are creative and meaningful social artifacts embedded with children's culture, history, social mores, attitudes, and relationships.
Many folklorists speculate that children's songs actually began as adult games and songs, and then were adapted by children, since many cultures have shifted away from adults using music and dance as acceptable or valued social events and instead have turned toward other forms of entertainment. Nonetheless, games and songs were developed in their entirety or at least greatly enhanced by the creativity of children. Hand-clapping songs, circle games and dances in which narrative movements are used were performed and elaborated on generation after generation by children and youngsters. Below are a few examples.
A singing game is an activity based on a song verse, which has actions or movements associated with it. Some children's singing games have their roots in circle dances, while others reflect social traditions of courtship and marriage, friendship, overcoming childhood fears, or just expressing the fun and merriment of childhood.
Chapter 9 introduced the play party game and cumulative songs, appropriate for older children, but there are many other types of older children's game songs such as the Circle Game Songs, Handclapping songs, Jump rope songs, Counting out rhymes, Nursery rhymes, Chants, and Sea Chanteys.
Many of the children's games in the U.S. originated from Europe, and immigrants carried their ancestral heritage through songs and games, which in turn influenced childhood in the U.S.
The song "Farmer in the Dell" for example, reenacts the importance of agricultural life, animal and family relationships in early 19th century Germany by having participants imitate the types of animals and family existence common in rural areas.
The Farmer in the Dell
Traditional German singing game song, 1826


Circle songs from England that we are familiar with include "Here we go Round the Mulberry Bush" or "Ring Around the Rosie," as well as what is known as a "catching" game like "London Bridge" in which two children facing each other, join hands high above as a stream of children pass underneath. Suddenly, the two children drop arms and catch one child. Many folklorists trace these songs back for centuries. "London Bridge" might go as far back as the Middle Ages in London, as it describes the disrepair of the famous bridge.
London Bridge is Falling Down
English children's game song, 17th century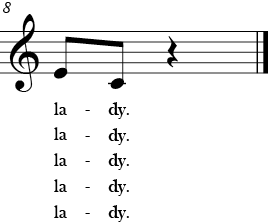 Many simple children's games actually carry complex musical attributes. For example, the camp song B-I-N-G-O appears to be a relatively straightforward spelling song. However, musically, it is quite advanced in that as you gradually silence the letter of the word B-I-N-G-O, the brain compensates for the missing pitch and rhythm using the inner ear.
B-I-N-G-O
American play party song



Clapping and jump rope games are also widespread in the U.S. and around the world, and range from simple clapping patterns found in "Pat-a-cake, pat-a-cake baker's man," on to the complex and multi-versed rhymes such as "Miss Mary Mack" or "Miss Mary Had a Steamboat."
Miss Mary Mack


Miss Mary Mack, Mack, Mack
All dressed in black, black, black
With silver buttons, buttons, buttons [butt'ns]
All down her back, back, back.
She asked her mother, mother, mother
for fifty cents, cents, cents
To see the elephants, elephants, elephants
Jump the fence, fence, fence.
They jumped so high, high, high
they reached the sky, sky, sky
And didn't come back, back, back
Till the fourth of July, ly, ly!
Counting Songs
Counting Songs are another important type of children's songs, particularly counting elimination games like "Eeny Meeny Miny Moe," or just counting rhymes such as "One-Two Buckle My Shoe."
"Eeny Meeny Miny Moe" in its modern version (oldest version found in 1815 or 20).
Eeny, meeny, miny, moe,
Catch a tiger by the toe.
If he hollers, let him go,
Eeny, meeny, miny, moe.
Counting songs are also found around the world as well. Here is one from India.
Ginti Geet (literally "Counting Song")
Ek do, kabhi na ro
teen chaar, rakhna pyar
paanch che, mil kar rakh
saath aat, pad le paat
nau das, zor se hans.
One Two, do not cry
Three Four, have love
Five Six, join and live
Seven Eight, read your lessons
Nine ten, laugh out loud.
In certain cultures, both adults and children play games. Two games from India are kabbadi and antarkashi. Kabbadi, a game similar to tag, involves the pursuer repeatedly chanting the word kabbadi in an uninterrupted stream without a breath while trying to tag someone. If the stream of breath is broken before they tag someone, they're out. (There are also World Cup Championship matches of Kabbadi in Asia.) Antarkashi is a challenging game involving song lyrics, where one team sings lines from a song and the other team must begin their song with the first letter of the last word from the previous team's selection. The first team to miss coming up with a response loses.
Activity 10C
Think about it
How is creativity perceived and valued in the U.S.? Among adults? Among children? How is children's play perceived? Is children's creativity given adequate importance in the curriculum?
Try This
Try to play Kabbadi (kuh-bah-dee) using either the word Kabbadi or substituting an English word. Kabbadi means "holding hands" in Tamil.
In preparation for longer, narrative stories in which sound effects and music are incorporated, there are many children's rhymes that tell stories and incorporate fun sounds. One of them is "Bear Hunt" in which children make the sounds of footsteps, swishing through tall grass, splashing through a river, etc.
Start by patsching on your lap, L R L R L R while speaking the rhyme.
Bear Hunt
We're goin' on a bear hunt,
We're going to catch a big one,
I'm not scared
What a beautiful day!
Oh look! It's some long, wavy grass!
Can't go over it,
Can't go under it,
Can't go around it,
Got to go through it!
(Make arm motions like you're going through long grass and make swishing sounds.)
We're goin' on a bear hunt,
We're going to catch a big one,
I'm not scared
What a beautiful day!
Oh look! It's a mushroom patch.
Can't go over it,
Can't go under it,
Can't go around it,
Got to go through it!
(Pretend to go through the patch making popping sounds by clasping fingers together and clapping hands.)
We're goin' on a bear hunt,
We're going to catch a big one,
I'm not scared
What a beautiful day!
Oh look! It's a wide river.
Can't go over it,
Can't go under it,
Can't go through it,
Got to swim across it.
(Pretend to swim and make splashing sounds.)
We're goin' on a bear hunt,
We're going to catch a big one,
I'm not scared
What a beautiful day!
Oh look! A deep, dark cave.
Can't go over it,
Can't go under it,
Can't go through it,
Got to go in it.
(Pretend you're in a cave, and cup your hands around your mouth to make an echo-ey sound.)
Uh, oh! It's dark in here.
I feel something,
It has lots of hair!
It has sharp teeth!
It's a bear!
Hurry back through the river,
(Pretend to swim and make splashing sounds)
Back through the mushroom patch,
(Make popping sounds)
Back through the long grass
(Make motions like you're going through grass and make swishing sounds)
Run in the house and lock the door.
(Make a loud clap sound.)
Phew! That was close!
I'm not afraid!
Encouraging Musical Creativity through Improvisation
As educators, we are in a position to facilitate music making with children and encourage them to explore their musical selves, including their originality, intelligence, and musical capacity. A study by Koutsoupidou and Hargreaves (2009), found that improvisation had significant effects on the development of children's creative musical thinking, and that musical originality—the way the child manipulates musical sounds in a unique fashion—increased along with the child's musical flexibility. One of their significant findings reiterates the common sense idea that, "encouraging children to be creative in the classroom can promote creativity, while preventing them from engaging in creative activities might inhibit their creative potential" (p. 265-266).
One of the ways of fostering creativity is to encourage students' improvisation. . The term improvisation is often misunderstood to mean, "making something up on the spot." Even the Merriam-Webster definition, which states "to speak or perform without preparation," is highly misleading. In fact, improvisation is an advanced and highly sophisticated skill in which the musician must draw upon all of their previously practiced knowledge and techniques in order to compose "in the moment." Musicians must also respond immediately to their own sound through acute music listening ability, often coordinating with other musicians around them.
Although there is discussion over whether improvisation skills can be taught, there are some basic steps that allow children a safe, secure context in which to experiment with improvisation. Begin by stressing play and participation over performance. This is critical, since most of the self-confidence issues regarding the arts is centered around the idea that children can "get it wrong" or the idea that what they create is less than perfect. In the activities below there are no correct or incorrect musical utterances. All of it is exploratory and meant to develop the child's inner sense of confidence and skill building while playing.
1) Instrumental Improvisation
Pentatonic Improvisation on Xylophones

Remove the "F" and "B" bars to make the instruments pentatonic.
Clap a simple 4 beat rhythm, and have

students

play any notes on the xylophone in that rhythm.
After they are confident and familiar with the process, ask them to play the last note together on "C" for example, so they set up a tonal goal for their short improvisation.
Increase the length of the rhythms clapped to 8 beats, then to 16 beats. After 8 beats, they can play a "G" which is the V or dominant of the C scale in order to create another goal. Then they can end on "C" on beat 16. This gives the improvisation shape.

Solos and Groups

When they are comfortable with the process above, have a few soloists volunteer to play their measures alone. This can be alternated with whole group/solo/whole group/solo, to create an improvisatory piece.
2) Body Percussion Improvisation
Snapping, Clapping, Patsching, Stomping

Begin by practicing echo clapping, using many different rhythmic patterns in different meters (e.g. 2/4, 3/4, 4/4, 6/8 in 2, 3, 4, 6, 8, 9, 12, or 16 beat patterns). These become the embodied tools with which students will create their improvisation
Have them experiment with these rhythms either just clapping or on their body first using body percussion – clapping, stamping, snapping or patsching) until they become confident in producing different rhythms.
Question/Answer. Another place to start is to provide a question for the group in a 4-beat pattern and then have them respond with their own 4-beat pattern. The question/answer technique is slightly more difficult than echoing in that echoing merely imitates what the leader has done, and answering requires the creation of a different rhythm.
Question/Answer Advanced. An even slightly more difficult answer is one that involves a part of the question. For example, in a linguistic question and answer, you might ask: "Where are you going?" The answer usually includes part of the question, with a slight modification of words or word order. For example, "I am going to school." Similarly, a musical answer should also contain part of the question, plus have a sense of closure or finality. For example:




Closure or finality means that it should sound final, and not end with eighth or sixteenth notes, which imply that there will be a next measure. Ending with quarter notes, half notes, or even quarter notes and a rest gives a sense of finality to the rhythm.
3) Vocal Improvisation
While one might think that vocal improvisation is the easiest type of improv, it is actually very challenging. Below are both vocal and instrumental sample activities from the book Free to be Musical, (Higgins, et. al, 2010), which will help guide students to feeling comfortable with improvisation.
Activities from Free to be Musical: Group Improvisation in Music
Keep breathing

Breathe, and concentrate on your breath.
Gradually add a sound to the exhaled breath.
Get an instrument and figure out how to play it to the exhaled breath—change if you like.

Be free

Start and end in silence.
Play with an instrument however you want, not listening to anyone else.
After a while, begin to tune in to other people.

Dig-a-dum

Chant dig-a-dum dig-a-dum, over and over.
Then add patch, clap, snap, stamp, slap or any other vocalization such as dee, too, bah.
Transfer the rhythm to non-pitched percussion instruments.
Have each child play the rhythm four times, while the group responds four times. Listen for timbral differences.
Transfer to pitched percussion.
Expand to have them add in other rhythms while keeping some dig-a-dums.
Children's Compositions using Abstract Notation
Children are natural composers and experiment with sound all around them. Capturing their sounds, however, is difficult to do in regular notation, and children do not have the ability to formally notate something using staff paper and lines. But expressive abilities of music do not have to be limited. Using abstract notation is one way around this. Children can draw simple shapes and textures to express sounds and compositions that they've invented, or can read the work of another child who has written in this type of notation.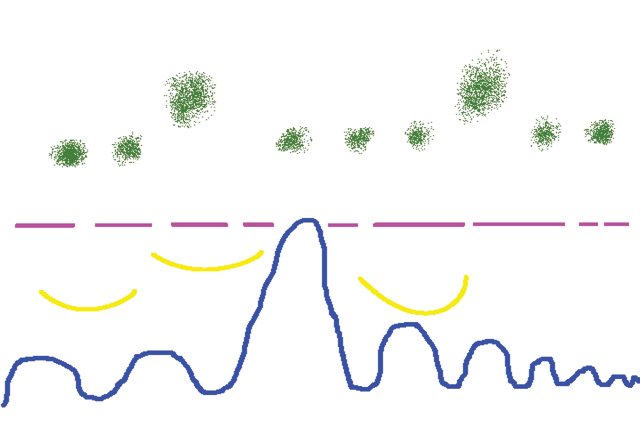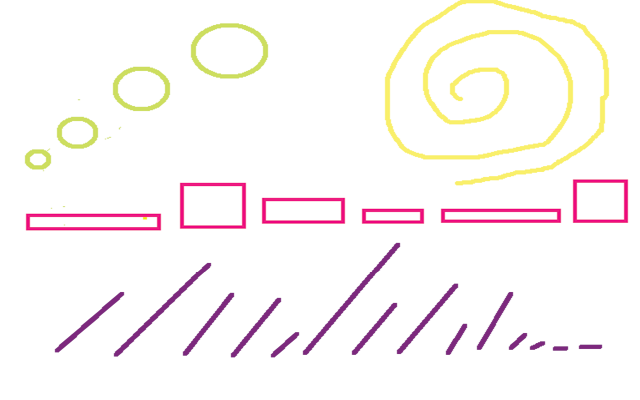 Above are some examples of this type of notation. Swoops, lines, dots, etc., can represent many vocal sounds. Although this is not typical or standard notation, there are very specific musical attributes that can be visually represented such as sound, silence, and duration or the length of the sound. In the first example, the pink lines indicate the duration of a sound and then silence. Other visuals require some advanced decision-making. For example, does the the tall, big, blue bump in the middle of the squiggly line in the first example equal a loud sound (dynamics) or a higher pitch or both? Does a "shorter" or smaller bump equal softer or a lower pitch or both? Exactly what sound does each shape represent? Smooth? Rough? Short? Long? Sharp? Should you use a vowel? Consonant? An onomatopoeic sound? A word? Body percussion? What is the tempo of the piece? How do you read the piece? Left to right or right to left? Top to bottom or bottom to top? In terms of texture, does the first example consist of four separate lines or voices, or should they be performed all together? At what tempo is the piece to be performed? A child can be the conductor of the piece, and set a tempo by slowly moving their finger along the "score" as other children perform their different parts.
After a successful vocalization or body percussion, the next step is to assign instruments to the different lines. A circle might represent a drumbeat, a swoop could be a slide whistle, etc. Still, decisions about crescendos and decrescendos, tempo, and score reading have to be made, but there are endless possibilities for vocalizing and playing these child-centered compositions.