Music at the Beginning: A Child's Musical Awareness
All children are musical—they are born musical, and are keenly aware of sounds around them. Let's begin with a journey from the perspective of the child—a very young child at the beginning of life. What does the child experience? What does he or she hear? Inside the womb, the baby hears the mother's heartbeat, the rushing sound of amniotic fluid and the mother's voice. From outside, the baby hears language and music, mostly low sound waves from bass instruments and loud noises. Because the visual sense is not viable at this point, the auditory senses are primary, and hearing is the most keenly developed of all of the fetal senses. Hearing develops from about 19 to 26 weeks of the pregnancy when the inner ear matures, and babies respond to voices and classical music by turning towards it and relaxing. They respond to loud noises as well by kicking, and curl up and turn away from loud rock or pop music (birth.com.au, 2013).
Do children remember what they hear in the womb? Auditory neuroscientists say that children do remember what they hear in the womb. Children remember their mother's voice, and even melodies.
Music in a Child's Environment
Children are part of two overarching social categories—humankind in general, and the specific culture in which they are born. As humans, music is an innate part of our existence, as we all possess the physical mechanisms to make and process organized sound just as we do language. As music educator Edwin Gordon notes, "Music is not a language but processes for learning music and language are strikingly similar" (Gordon, 2012, p. 6). The brain is wired for music and language, a topic that will be discussed in Chapter 7.
Music making and artistic endeavors represent the heart of a culture, and are part of each culture's core identity: not only what makes us human, but also what makes each group of us unique. In the U.S., unique genres of music that are part of our cultural fabric have developed over the centuries. The melting pot that is America has yielded brand new genres such as big band, jazz, blues, rock and roll, etc. Blends of European, Caribbean, and African-American people combined in a way like that of no other culture. In America, all of the music we currently know today is derived from the musical genres that came before us. All children are born into that musical environment and pick up the musical repertoire and vocabulary around them.
Children's Musical Repertoires
Because societies believe that children are the key to continuing the traditions of their cultural and musical heritage, there is usually a separate category of songs that teach children their cultural and musical history.
Activity 1A
Think of some familiar children's songs. How many can you think of? What were your favorite songs as a child? Did your songs have games or movement of some kind? What does society think about children's songs? Are they considered important or trivial? Are they nurtured or shunned?
After remembering some of your favorite children's songs, you may come to understand their importance. If you ask a group of people in any age category to sing a song, more often than not, children's songs are the only songs everyone can sing in their entirety from beginning to end. Why is that? One reason is that music and identity are closely related, and groups or cohorts of people listen to particular songs targeted toward their age group produced by the market-driven music business.
Another reason is that children's songs are uniquely structured to make them easy to memorize while containing basic musical and cultural material; language and codes that we come to recognize in all of our songs. We tend to think of children's songs as simple, and in some ways, they are in terms of lyrics, structure, and music. However, there is much more to them that that.
Activity 1B
What are some of the attributes of children's songs that make them so memorable? Develop a list of characteristics that make children's songs so popular, unforgettable, and able to survive for generations. Think about the musical aspects as well as the lyrical aspects. Are there a lot of notes or very few? Is there a big range or small? Are there many words or a few? Are there big singing leaps and lots of difficult runs or none?
The body or repertoire of children's songs is extremely old. In fact, the oldest songs you probably know are children's songs! This is because children's songs often preserve the social and historical meaning of a culture and the identity of its people. Many of our most popular American children's songs hail from centuries of ballads, hymns, popular and folk music of early New Englanders, Scottish, and English settlers inhabiting Appalachia, and African and European descendants. All of the songs are rife with musical, cultural, and historical significance.
"Twinkle, Twinkle Little Star," for example, is the product of both England and France, as an early 19th-century English poem set to an 18th-century French folk tune ("Ah, vous dirai-je, Maman"). The song also provides the music for two other very famous songs, "Baa, Baa Black Sheep" and the "A-B-C" song.
Twinkle Twinkle Little Star, Baa Baa Black Sheep, Alphabet Song
Melody: "Ah, vous dirai-je, Maman"
French folk song, 1761



"Zudio" or "Zoodio" is an African-American children's street game song with possible roots in slavery. It is suspected that the "great big man" mentioned in the song might be the slave owner.
Here We Go Zudio
African American song






"Mary Had a Little Lamb" was inspired by a true incident in the small town of Sterling, Massachusetts, in the 1830s, when little Mary's brother suggested that she take her pet lamb to school and chaos ensued. Below is a picture of the little schoolhouse where the incident of Mary and her lamb is believed to have taken place.
Mary Had a Little Lamb

All of these songs have musical characteristics particular to the genre from which they emerged. They have only a few notes, small vocal ranges, no fancy ornaments, and simple words. However, they also have significant social and historical meaning that helps to explain their incredible longevity in the children's song repertoire.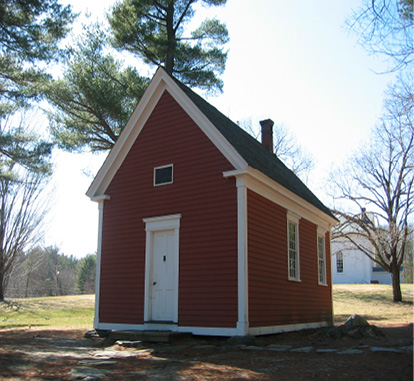 Dudesleeper at English Wikipedia [GFDL], CC-BY-SA-3.0 or CC BY 2.5, via Wikimedia Commons
To explore the idea of music as culture, let's look further at Mary and her lamb. "Mary Had a Little Lamb" is an almost 200-year-old song that remains compelling and still very popular today. Part of the song's popularity is the subject matter. It was inspired by the real-life actions of children, and did not emerge wholly from an adult's imagination. The melody is very simple, containing only four pitches and a fair amount of repetition. The meaning of this song is historically significant. The lyrics retain images of early American life: the one-room schoolhouse, the rural environment, no industrial noise and automobiles, and the prevalence of animals. A child growing up on a farm surrounded by animals would naturally befriend some of them. The idea that the child, Mary, would want to bring her favorite animal to school is more than understandable, and is akin to wanting to bring our dog or cat to school with us today. In other words, the song relives and retells the experiences of a child in another century and makes her story highly relatable to us today.
Activity 1C
THINK ABOUT IT
How much do you know about your favorite children's songs? Look up the background of some of your favorite children's songs such as "Ring Around the Rosie" or "London Bridge."
A Child's Informal and Formal Music Experiences
[The purpose of music in the schools]…is to prepare students for full participation in the social, economic, political, and artistic life of their homeland and the world at large. (Blacking, 1985, p. 21)
This statement, from ethnomusicologist John Blacking, highlights the holistic nature and potential impact of the educational system. Schools, however, provide formal music education, which is just one of the sources of a child's musical heritage. Often, the most important sources are informal. Children encounter music at home, in their everyday cultural environment, and while at play. All of these settings are part of a person's enculturation, or learning one's culture through experiences, observations, and both formal and informal settings.
At home, children are exposed to a family's musical heritage, which may contain music unfamiliar to those in their dominant culture. Music expresses identity, and children often take part in family celebrations that represent an ethnic or religious heritage. They are exposed to the music of their parents and siblings, friends, and relatives, casting a wide net over multiple experiences and genres.
Culturally, children are exposed to entire repertoires of music, which represent different parts of the American identity. From commercial music—pop and rock to jazz, from folk songs to national songs, religious and holiday songs, and multicultural music—children hear the rhythms, melodies, and harmonies that make up their musical environment. They unconsciously absorb idioms (i.e., musical styles, genres, and characteristics), which will render certain sounds familiar to them and certain sounds "foreign" and unfamiliar. Thus, the music and all of its elements that children are exposed to become as familiar as their native language.
In elementary school, or any early formal educational setting, children often learn music from a music specialist with a set music curriculum and learning goals. This has both positive and negative consequences. On the positive side, children are learning from a professional, trained to teach music to children. On the negative side, arts teachers are seen as separate "specialists," which erroneously relieves the classroom teacher of any responsibility for incorporating the arts into the daily classroom experience.
"I can't teach music; I can't sing!"
If you can walk you can dance; if you can talk you can sing.
—Zimbabwean Proverb
With restricted budgets and reductions in arts specialists in some school districts, access to the arts for many children relies solely on what the classroom teacher can provide. Unfortunately, many classroom teachers feel inadequately prepared to teach music, and classroom teachers' use of music varies widely according to prior exposure to music. It has been shown that teachers with "higher levels of confidence in their musical ability indicate stronger levels of beliefs about the importance of music" (Kim, 2007, p. 12). Teachers with the ability to read music notation, for example, felt more positively about including music in their classroom, and were more likely to use music in their teaching.
The truth is that we all know a great deal about music through enculturation. Everyone is familiar with certain repertoires of music (national songs, children's songs, popular songs, folk songs, and even classical pieces), and even the different elements of music (melody, harmony, rhythm, form, and timbre). The Zimbabwean proverb, "If you can walk, you can dance; if you can talk, you can sing," is quite apropos here. By virtue of your everyday experiences with music, you know more than you think about music, and can probably easily answer the questions in Activity 1D.
Although these questions might seem to be simple, they reflect a depth of music knowledge garnered throughout a lifetime of cultural exposure to music. For example, the above questions cover music theory, analysis, repertoire, and the uses and function of music in culture. Believe it or not, your accrued, cultural knowledge, added to a little enthusiasm and singing, is more than enough to be able to incorporate music into a lesson or curriculum.
Changing Role of Music and Culture: Making vs. Listening
Most people believe that music plays a significant role in their lives. Just think about the amount of time you spend surrounded by music in your day. The role of music, however, has changed dramatically in recent years. For thousands of years, the only way to experience music was to make it. Trained musicians and amateurs made music that fulfilled a variety of functions as part of religious rituals, work, story-telling, social communication, and also entertainment (see Merriam and Gaston's functions of music in Chapter 7). In traditional societies, music would normally be part of everyday work, worship, and leisure. Complex societies, however, separate music making and the music makers from everyone else, who become consumers or listeners. Technology has helped to alter the balance of the musical experience, favoring music listening over music making. Children now grow up spending much of their leisure time hearing music rather than performing or making it.
Currently, almost all of the music we experience is no longer live, but pre-recorded. Technology, however, has also increased the number of opportunities we have to hear music. Recordings have made music accessible everywhere: TV, radio, CDs, Internet, video games, personal music players, etc. Music is so ubiquitous that many people don't even notice it anymore. What has not changed, however, is a child's innate desire to be musical, make music, and learn from it. The music room and regular classroom are some of the only places many children have to make music in their day.
Activity 1D
TEST YOUR MUSICAL KNOWLEDGE
Complete the following:
The ______ is the part of music that you sing.

a. Rhythm

b. Melody

c. Form

d. Tempo

_______________________________

The ________ sounds the pulse or beat, and is usually played at a low frequency.

a. Melody

b. Bass

c. Harmony

d. Timbre

_______________________________

A melody is:

a. Supported by other instruments (accompaniment)

b. The most dominant part of a song

c. Where the lyrics can be found

d. All of the above

_______________________________

The bass:

a. Keeps the beat

b. Maintains the song's tempo or speed

c. Provides a foundation for the rest of the instruments and voices

d. All of the above

_______________________________

The ________ repeats several times throughout a song, with exactly the same words and music.

a. Refrain or chorus

b. Verse

c. Melody

d. Harmony

_______________________________

"Mary Had a Little Lamb" is an example of a:

a. National song

b. Religious or sacred song

c. Children's song

d. Classical song

_______________________________

Orchestras typically play:

a. Rock music

b. The blues

c. Classical music

d. Techno

_______________________________

If you have a drum set, two electric guitars, a bass, and a synthesizer, you will most likely be playing:

a. A classical symphony

b. Rock 'n' roll or pop music

c. Folk songs

d. None of the above
Activity 1E
THINK ABOUT IT
How would you describe your relationship with music? Do you typically spend more time listening to music or making it? How much time do you spend listening to music through headphones? Listening to music with other people?
Keep track of how much music you encounter in one day. How much of it is pre-recorded? How much of it is live?
The Aesthetic and Artistic Experience
If human beings are innately musical, and if in some societies these innate capacities are nurtured in early childhood, it has always seemed to me that we must do more in modern industrial society to place artistic experience and musical practice at the center of education. (Blacking, 1991, p. 55)
What if you heard of a new product that could help children focus, increase their learning potential, re-boot their cognitive functioning, and make them feel relaxed and refreshed all in a few minutes? And best of all, it's free! Would you use it?
Music is powerful, and music has the power to change people emotionally or alter the mood of room with just a few simple notes or beats. Music, as energy, has the ability to transform all those within its reach. We turn to music to feel better, relieve anxiety, overcome a difficult situation, find calm and peace, or feel empowered and fearless. Although we don't take much time in our busy day to think about it, one of the most significant uses for music is to create an aesthetic experience. An aesthetic response or experience concerns the nature of beauty, art, and taste. Children are capable of appreciating beauty in art, music, language, and movement. Exposure to these artistic forms develops the inner core of a child, introduces new dimensions of possibilities, and shows the brain a new way of functioning and understanding. The other good news is that it only takes a couple of minutes and a little thought to achieve this, and put some of the basic elements of music to work. Timbre, tempo, and dynamics are so powerful that a few adjustments here and there can change the entire learning atmosphere of a classroom.
For example:
A few notes played slowly and softly on a small glockenspiel can sound like magic.

Beating a hand drum can physically move students: the faster and louder, the more activity!

A soft song or lullaby sung or played on a melody instrument will calm them down almost immediately.

Children clapping, stomping, or snapping will have them focus their attention.
Activity 1F
THINK ABOUT IT
How might you go about creating an aesthetic experience (in or out of a classroom)? What if you had only a few instruments? No instruments at all? How could you accomplish an aesthetic transformation using sound?