Three- to five-year-olds are capable of singing more complicated songs, doing more complicated games and rhymes, and, of course, capable of more sophisticated listening. They can also understand some of the basic vocabulary and building blocks of music. It is appropriate to introduce a few concepts when performing songs and games with children, and also to experiment with these concepts, such as changing tempos and dynamics. Some vocabulary to use when pointing out these concept to younger children include:
High—Low (pitch)
Loud—Soft (dynamics)
Fast—Slow (tempo)
Smooth—Detached (articulation)
Duple—Triple (meter)
Steady Beat (tempo)
Timbre (the quality of sound)
For slightly older children, Feierabend (2001) identifies activities that help children develop spontaneous music ability and original music thinking under his "Arioso" category, as well as a detailed array of vocal- and motor-based experiences with music.
Feierabend's music readiness approach in his series First Steps in Music
An 8-part Music Readiness Curriculum for 3–8 Year Old Children by John Feierabend. Copyright 2014 GIA Publications, Inc. 7404 S. Mason Ave., Chicago IL 60638 www.giamusic.com. All rights reserved. Used by permission.
Singing/Tonal Activity Categories

1. Pitch Exploration/Vocal Warm-up

Discovering the sensation of the singing voice

2. Fragment Singing

Developing independent singing

Echo songs
Call-and-response songs

3. Simple Songs

Developing independent singing and musical syntax

Three–five-note songs
Expanded range

4. Arioso

Developing original musical thinking

Spontaneous created songs by the child

5. Song Tales

Developing expressive sensitivity through listening

Movement Activities Categories

6. Movement Exploration/Warm-up

Developing expressive sensitivity through movement

Movement with and without classical music accompaniment

7. Movement for Form and Expression

Singing/speaking and moving with formal structure and expression

Non-locomotor (finger plays, action songs, circle games, with recorded music)
Locomotor (circle games, with recorded music)

8. Beat Motion Activities

Developing competencies in maintaining the beat in groups of two and three

Child-initiated beat motions

Non-locomotor or locomotor

Teacher-initiated beat motions

Non-locomotor or locomotor
Vocal Activities for Three to Five Years Old
Preschoolers (three-, four-, and five-year-olds) have a range of six notes between a middle C and the A above it. Their most comfortable notes are in the middle between E and F.

The goal is to have them not sing too far below the staff or too low in their voices, and to not push or strain their voices too far above this range either. Singing should be light, in the child's head voice, never forced or pushed, and beautiful music-making should be stressed.
Initially, children need to explore their voices to find out what they are capable of, and to start hearing that their voices do indeed have a range to them. It is very good for children to make light, airy, and smooth sounds in their head voice as they find their individual sound.
Begin with some vocal exploration with speech, just getting them to loosen up and find their high, light head voice.
Voice exploration speech exercises
1. I take my voice up high
I take my voice up high (start low, and slide voice up)
I bring my voice down low (Start high, and slide voice down)
I send my voice out into space (Cup hands around mouth and project)
I whisper all around, whisper, whisper (Whisper line and whisper to neighbors)
2. Bow wow
Bow wow, says the dog (medium voice)
Meow, meow says the cat (high voice)
Grunt, grunt says the hog (low voice)
Squeak, squeak says the rat (very high)
3. Elevator
Have the children pretend their voice is an elevator sliding up and down between floors. They can accompany their vocal exploration with physical moving up and down as well, or the teacher may want to have a focal object like a puppet moving up and down that they can follow with their voice.
Pitch matching songs and games
Begin with simple but interesting songs with small ranges. These songs can be varied and repeated, and help children sing accurately. "Who's Wearing Blue" is an excellent warm-up or opening activity in a music class. What did the children wear? do? see? There are endless, creative opportunities to ask them about their lives in a few notes.
Sol, mi, la songs
Who's Wearing Blue?

We are Dancing in the Forest

Mi, re, do songs
Hot Cross Buns
English traditional street cry, 1733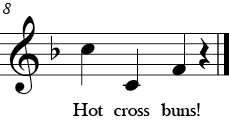 Simple songs in a limited range
Rain, Rain Go Away
Traditional children's song, 17th century

Snail, Snail
Children form a single line, holding on the waist of the child in front of them. The child at the front of the line is the snail's head, who holds up and wiggles both index fingers on the forehead representing the snail's eyestalks. The line shuffles around the room imitating the slow, fluid motions of a snail.

Little Sally Water
Traditional American circle game song



See Saw, Margery Daw
English nursery rhyme, 1765


I Have Lost my Closet Key
American folk song


Accompanying game for "I Have Lost my Closet Key": Children sit in a circle. One child hides a key in their hand while another child walks around the circle trying to guess who has the key while all sing Verse 1. After finding the key, all sing Verse 2. That person then becomes "it" and another is chosen to hide the key.
Au Clair de la Lune
French folk song


Ring Around the Rosy
English song attributed to 1665 Black Plague, but sources only go back to 19th century


Sally Go Round the Sun


Rocky Mountain
Appalachian folk song




No Bears Out Tonight
One child is the "bear" who hides while others count one o' clock to midnight.
Children search for the bear, then run back to "home" when the bear is found.


The Mulberry Bush
English nursery rhyme, 1840s


Instrumental Music Activities for Three to Five Years Old
High/Low Pitches: You or a child plays a low instrument (drum, bass xylophone, etc.) and children respond by moving in low space. Then try the same for high-pitched instruments (triangle, tambourine, etc.), having them move through high space.
Fast/Slow Tempo and Loud/Soft Dynamics Game: Similar to above, play instruments in different tempos and dynamics. Switch and mix them up (fast and loud, soft and slow, fast and soft, slow and loud), and if the child doesn't switch, he or she is out.
Contrasting Timbres: Assign a different movement to different timbres. For example, a wood block corresponds to a hop, a xylophone glissando is a leap, a shaker means to shake. Create an orchestra with half of the class playing and the other half responding. For more advanced children, create a choreographed and composed piece from the game.
Musical Simon Says: Review concepts learned such as loud/soft, high/low, or fast/slow. Simon says yell loud, Simon says whisper, Simon says sing high, Simon says groan low, etc.
Rhymes and Games
Poetry and rhymes are among the most basic forms of human expression, and both children and adults use poetry, rhymes, and games to tell stories, remember history, fantasize, dream, and play. For young children, the rhyme is magical as they first encounter the powerful sound of rhyming words. Words create rhythmic patterns that captivate a child's attention. The natural rhythms inherent in rhyming can become the basis for exploration, improvisation, vocalizations, and instrumental creativity.
Rhymes with actions, in particular, are enjoyable to children because children live through all of their senses and their whole body. Adding movement helps reinforce the linguistic content of the rhyme or song. Movement and rhymes build cognitive abilities in terms of sequencing physical and linguistic activity, imitation, and internalization.
Adding Movement to Rhymes
There are many types of movement to add to rhymes and games. There are narrative movements, which are mimetic actions that help to illustrate certain words and tell the story (e.g., "I'm a Little Teapot"); abstract movements, which do not carry any specific linguistic meaning, such as waving arms or jumping; and rhythmic movements, which can either emphasize the beat of the rhyme or the rhythm of the text, such as clapping or body percussion.
Narrative Movements: It is easy to add narrative movements to most children's rhymes as these poems often tell some type of story. Consider the rhyme "I'm a Little Ducky." Adding swimming and flapping motions would be an obvious activity to add. Narrative motions not only bring the story to life, but also significantly help children to remember the words to a rhyme or song.
I'm a little ducky swimming in the water
I'm a little ducky doing what I oughter
Took a bite of a lily pad
Flapped my wings and said, "I'm glad"
I'm a little ducky swimming in the water
Flap, flap, flap
Abstract Motions and Rhythmic Motions: Almost any non-locomotive or even some locomotive motions would work here. Abstract motions can easily be rhythmic as well (e.g., swaying to the beat, nodding the head to the beat, tapping the rhythm of the words or beat, etc.).
Walking to the Beat: While a seemingly simple-sounding exercise, walking to the beat requires a physical awareness and near-constant mental and physical adjustment to the walking stride in order to fit the beat and tempo of the rhyme.
Example: Take any standard, well-known nursery rhyme. Walk to the beat while saying the rhyme. End precisely on the last beat of the rhyme and freeze!
Advanced: This game can be further developed for older or more advanced children. Once they are walking to a steady beat and stopping precisely on the last beat, have children drop the recitation of the rhyme, and just walk the beat. See if they can all still stop on the last beat! This helps students internalize the beat and phrases of the song.
Steady Beat Games
Pass the Beat: Begin with a simple rhyme or song. While sitting in a circle, have students pass a beanbag around the circle on the beat. If the child misses, they are "out" or "in the soup" in the middle of the circle.
Bouncing Beat: Another game is to bounce a ball to the beat of a simple song such as "Bounce High." This is a little more challenging because they have to keep control of their bodies, voices, and a ball.
S, M, L song
Bounce High

Action Songs
Head and Shoulders (Key of F)




Shoo Fly
American folk song, 1863




Do You Know the Muffin Man?
English folk song, 1820


Did You Ever See a Lassie?
American folk song, late 19th century




Go to Sleep


If You're Ready for Music



Rhymes
Deedle, Deedle Dumpling
Deedle, deedle dumpling, my son John
Went to bed with his stockings on
One shoe off and one shoe on
Deedle, deedle dumpling, my son John
Oliver Twist
Oliver Twist, Twist, Twist
Can't do this, this, this
Touch his nose, nose, nose
Touch his toes, toes, toes
And around he goes, goes, goes
Rub, Rub
Rub, rub, rub
________'s in the tub
Rub her/him dry
Hang her high
Rub, rub, rub
Jingle Jive
Jingle, jingle, jingle jive
Move until you count to five
1, 2, 3, 4, 5
Open Shut Them
This is an action game song where the lyrics are imitated through movement using simple actions in both hands.
Open Shut Them


Open, shut them, Open, shut them, (open and shut both hands)
Give a little clap, clap, clap (clap on each "clap")
Open, shut them, Open, shut them, (open and shut both hands)
Put them in you lap, lap, lap (tap open hands on thighs)
Creep them, creep them, creep them, creep them, (crawl hands up to chin)
Right up to your chin, chin, chin (tap on each "chin")
Open wide your little mouth (open mouth)
But do not put them in, in, in (tap on each "chin" again)